The Red Blend Challenge is an initiative which is independently run by Events by Celia. The aim is to shine the light on the Red Blends of South Africa. "Each blend is a work of art, where the winemaker is the artist," says Celia, owner of Events by Celia. The competition is run professionally and according to the international standards. The aim is to do this at the least expense to the wineries and there is no expectation of extra stock other than the two bottles delivered for the judging.
A word from the chair
The judging of the Red Blend Challenge took place on March 16th in Cape Town, by three experienced tasters, Cape Wine Masters Christine Rudman (as Chair) and Ginette de Floriot, and Honorary Cape Wine Master Colin Frith.
There were 43 entries across various styles: Bordeaux (any combination of Cabernet Sauvignon and Franc, Merlot, Malbec, Petit Verdot); Rhône (any combination of Shiraz, Grenache Noir, Mourvèdre, Carignan, Cinsault, Viognier); Cape (30%+ Pinotage with other red varieties); and Others, not fitting any of the aforementioned styles. This and Bordeaux were the largest categories.
Judging was according to the international 100 point system, and all wines were evaluated blind in the presence of an auditor. There were 16 golds awarded, 90 points and above, accounting for 37% of the entries, with nine of these from the Stellenbosch/Simonsberg areas. The balance of the entries were Silver, scoring 80-89 points. We awarded no Bronze medals, reflecting the general quality of the wines submitted. Vintages stretched from 2014 to 2020, with the majority from 2019 and 2020.
The highest rated wines were the Bordeaux blends, a tried and trusted combination of varieties, capable of noteworthy quality in the right hands. The winners here were both Cabernet Sauvignon and Merlot-led, comprising at least three varieties, and in some cases all five. Of the five Rhône blends entered, three earned gold, with Grenache playing a dominant role in two of them. As expected, other blends were diverse and creative, using Portuguese and Italian varieties as well as local like Pinotage and lesser known French such as Durif and Tannat, in combination with Bordeaux and Rhône varieties.
However, the panel felt that although the majority were delicious, they were created for earlier drinking, rather than for ageing. Throughout all entries, there was good tannin balance, with no harsh wines, and most had good fruit expression, coupled with attractive oak spicing. Sadly there were only three Cape Blends submitted, not enough to do a general evaluation.
Red Blend Challenge 2022 medal winners
Medalists are listed below in alphabetical order.
Winner:
Gold medals:
Anura SMC Reserve 2020
Anura Symphony 2019
Druk My Niet T3 2014
Ernie Els Signature 2016
Groot Constantia Gouveneurs Reserve 2018
Mimosa Reserve Natus MMX 2020
Rhebokskloof Flat Rock Red 2019
Rhebokskloof The Rhebok 2019
The High Road Director's Reserve 2017
Vrede en Lust Ella 2019
Warwick Professor Pitch Black 2018
Warwick Three Cape Ladies 2017
Waterford Antigo 2019
Zorgvliet Silvermyn Argentum 2020
Silver medals:
Alvi's Drift 221 Special Cuvee 2020
Alvi's Drift Albertus Viljoen Bismark 2020
Alvi's Drift Rondebosch Cabernet Sauvignon Shiraz 2020
Alvi's Drift Reserve Drift Fusion 2020
Bellevue Atticus 2020
Bergsig Icarus 2018
Bob's Your Uncle Head Over Heels Cabernet Sauvignon Merlot NV
Casa Baleia Vinhos Rochas 2020
Daschbosch The Gift 2020
Druk my Niet Invictus 2014
Ernie Els Big Easy Red Blend 2020
Hillcrest Atlantic Slopes Hornfels 2016
Jason's Creek Classic Red 2018
Jason's Hill Izak Reserve 2018
Louisvale Boris 2019
Mimosa Mysterium 2020
Nitida Calligraphy 2018
Paul Wallace Crackerjack 2019
The Fledge & Co Red Blend 2017
The Fledge & Co Veld Versnit Stellenbosch 2020
The High Road Classique 2017
Vrede en Lust Boet Erasmus 2017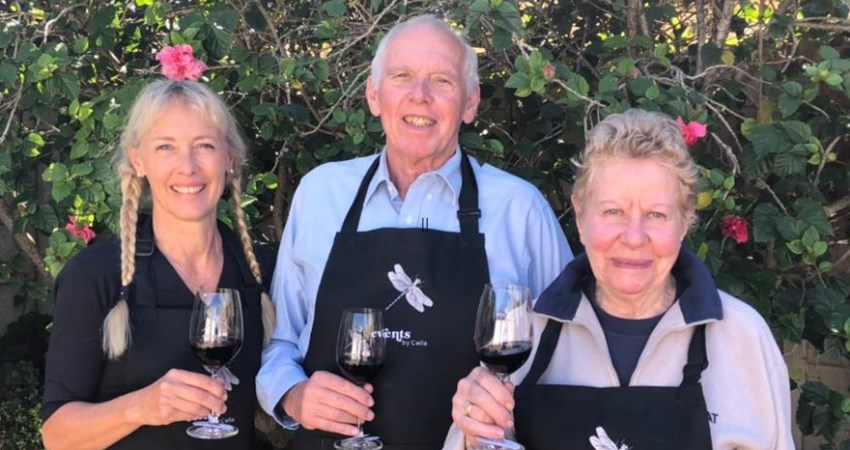 The members of the Red Blend Challenge 2022 judging panel